11005 Prospect Hill Road, Glenn Dale, MD 20769 now has a new price of $310,000!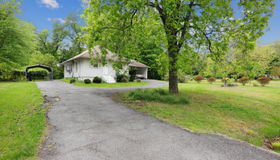 $310,000
11005 Prospect Hill Road
Glenn Dale, MD 20769
Really nice home with lots of options. Home sits on 1.7 acres and is 1/3 forested. Home comes with kitchen, living room. dining room, full bath with tub and a bedroom. There used to be a second bedroom but a wall was removed in the past. Could be a second bedroom with room divider. It has a handicapped in-law studio style suite with full bath with and 1/2 kitchen. The kitchen has a two-burner stove and a sink. It also has a ramp to main floor and two private entrances. This side of the house has a covered carport. This side could be turned into an accessory apartment. Main side of house also has covered parking. There is plenty of parking on property. Adjacent street also has a double shoulder so that is also available for parking as well. Outside workshop/studio/office with power. Workshop comes with lights and more electrical sockets then you will ever need. Pool is non working but fenced in. It currently has a group of frogs who reside there. They sound beautiful in the spring and summer. You never see them. Cellar entrance is outside near the back door. If you are looking for peace and tranquility this is the place for you. 25 minutes to DC and Annapolis. Close to 495 and 295. They keep to themselves but will watch out for you if you need them to. Elementary school and park within walking distance. Also a great home for watching birds. Also comes with two pear trees in the front. Wild blackberries are also on the property. Come check out this great house and turn it into your new home!
Learn more about this property